Herinneringskamp Westerbork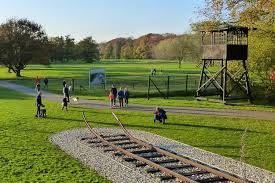 In 1983 Camp Westerbork Museum in Hooghalen was built on private initiative and with financial support from the Dutch Governement. It contains, amongst other things, a permanent exhibition of many photographs and documents.
The exhibition depicts Dutch war time under occupation, with special emphasis on the persecution of the Jews. The history of Camp Westerbork is represented by means of photographs, documents, drawings, paintings, images, maps, and objects.
The National Westerbork monument
Camp Westerbork seemed to have vanished from the earth but a monument was erected which served as a permanent reminder of its sad history and one of the blackest pages in the history of our country. The National Westerbork Memorial was designed by Ralph Prins, himself a former prisoner in this camp. In 1970 the memorial was unveiled by Queen Juliana. It is situated at the spot where, during the war, the railroad from Hooghalen to the camp terminated. After having cut through the entire camp, the train came to a standstill in front of a buffer, just outside the camp. The memorial signifies the dismay that results from realizing what has happened to the Jewish people.
Hunnebedcentre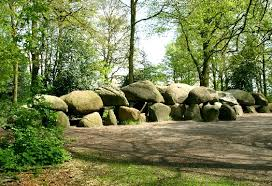 The Hunebed Centre – a journey through 150,000 years of history
Imagine a layer of ice 1 kilometre thick. That was the north of Holland during the Ice Ages. When the ice melted, it left behind thousands of large boulders, carried here by the ice from Scandinavia. Around 5,000 years ago the first farmers used these boulders to build the impressive stone tombs we call Hunebeds. You can still see 54 of them standing in the local countryside. And the largest one of all, over 22 metres long, stands right next to the Hunebed Centre.
Do you want to book for a period longer than 3 weeks? Contact in that case the camping itself directly by phone or email.